Posted: Saturday, July 27, 2013 11:19 AM
---
5th Annual Indoor Flea Market 7/13/2013 at Central Self Storage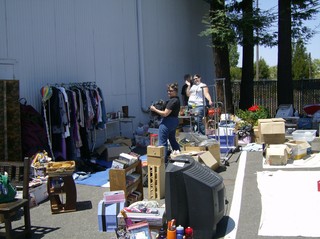 Location:
X-Buena Vista Ave
5th Annual Indoor Flea Market
Central Self Storage
1913 Sherman St in Alameda
Cross St. Buena Vista
8am to 3pm Saturday July 13th
Tenant set-up begins at 6am on the 13th
We only do it once a year and the time is now - Saturday July 13th.
Sign-up have begin for this year's Flea Market. Please respond to this email or give us a call to be put on the list. We only have spaces for approx. 35-40 tenants to participate. If you were involved in the past flea market everything will be done the same. If you are new to this or just can't remember how it works then see the following for instructions:
This event is basically a way for tenants to have a garage sale without havingto lug their items home to do the sale.
The event is free and we want you to make a lot of money from your items. CSS does not pay for the advertising so it is up to whoever is involved to help pay for the ads in the newspaper. This is the only thing we ask that you help pay for. It is usually only about $40 and I basically divide up the number of people who show up for a spot the day of into the amount the ad costs and that's how I determine what each person needs to contribute. The past few years it is has been $3-$5 each.
We will be posting Craigslist Ads, making up flyers to pass out around town and there will be an ad in the Alameda Sun. We also do an ad with the Oakland Tribune which also gets us into 5 surrounding area newspapers.
I will call everyone who ison the sign-up sheet 1-2 days before the 13th to confirm who is going to here involved.
The night before I will tape off and assign individual spots inside the warehouse along the side opposite the office. Most spaces are the size of a parking space or about 8x10.
The morning of I will be here at 6am to make sure participatants can get early access and to answer any questions that you might have.
You will come in and look for the spot that has your name on it and begin to set up your items there. We do not provide tables, chairs or moving help of any kind.
The doors will open to the public at 8am and the sale will go on till 3pm.
It is customer appreciation day so we will provide hotdogs, chips and sodas for any customerwho just wants to come down and have lunch on us.
Jasean Johnson will be setting up his bounce house in the front parking lot. There is a fee to play in the bounce house. He will also be selling BBQ, sodas, popcorn and snowcones at a great price.
At 3pm the sale is over and it is time for everyone to clean up their area. This is the most important part of the day. It is very important to remember that before setup begins the property is clean and tidy. After the sale ends, the property needs to be in the same condition as when it started. I want to make it known that if there is a mess left behind like there was last year, future flea markets will be cancelled. So please be courteous by sweeping up and disposing of any garbage that might be left behind. Thank you.

www.centralselfstorage.com

1913 Sherman St
Alameda, CA 94501
View Map
Organizer:
Central Self Storage
Purpose:
Get rid of stuff
Entertainment:
Bounce House for the Kids
• Location: East Bay

• Post ID: 14856065 eastbay